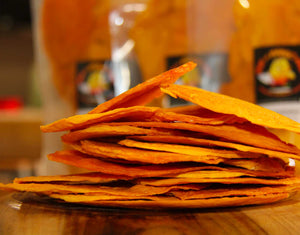 ABOUT OUR DRIED MANGO
Grown in Australia, on sustainable farms, our mango are harvested ripe, then hand-sliced and dehydrated at low temperatures to achieve a perfectly soft texture. This gentle process allows us to preserve the mango's naturally sweet, tangy flavor, vibrant color and nutrient density without the addition of sugar, sulfur dioxide or preservatives.
Dried mango makes a healthy snack that is high in prebiotic fiber that can support digestive health. Enjoy nature's mango candy in its purest form! We're proud to offer you our dried and fresh kensington pride mango sourced direct, straight to you.
ABOUT DAN
As kid I grew up in the northern suburbs of Adelaide, South Australia, which was around 1.5 hours from the beach. I was introduced to surfing during a family holiday in Victor Harbour when I was 12 years old.  It quickly became the passion and love of my young life! I still remember begging my parents to take me to the beach every weekend. Fast forward to when I turned 16: My good mate Tim and I hit the road and headed north to QLD on a surf adventure with no time limits. What a life changing adventure that turned out to be!
Arriving in Qld I couldn't believe the amount of Mangoes just falling on the ground. To me, they were beautiful! l remember stuffing my face with them and inconveniently finding the stringy fruit clogged between my teeth. With a face full of nectar and string hanging from every tooth, people would laugh and say  "Mate they are Stringies, (the name for the local Mango, very stringy in texture) you should try a Bowen. I did and that's when my second love began.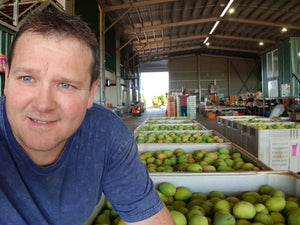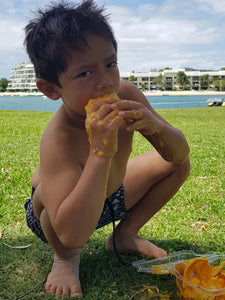 Love Mangoes
You know, its said you should work at what you love. As time went on, I realised I wasnt going to make a living from surfing so I jumped on a plane and flew as far north as I could go in search of farmers willing to sell me Mangoes.
I landed in Darwin and found my first farm fresh Mango grower! I had a great supplier and my Mango business was born.
Luke, another good friend of mine, and I came up with the idea to incorporate  my two passions into my brand.  Surfing and Mangoes.
Luke designed a caricature of me as a mango holding a surfboard and Dan the Mango Man was born. I've always bought direct from farmers and so it was natural that our motto, DAN THE MANGO MAN "Supporting Australian Farmers" came to life.
So, from our little road trip to Qld in 1995 I never looked back. I'm still here now with a beautiful wife, Marlyn, and my two boys, Cody and Harry.
Together, we run our muched loved mango business, and life is sweet.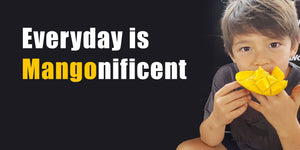 The amazing benefits of mangos
Mango, the quintessential summer fruit, is perfect for desserts. But who would have imagined that a sweet, juicy and delicious fruit like mango can also be a healthy superfood? Well, it's true. It is rich in Vitamin A, Vitamin C and minerals like copper, potassium and magnesium.
Not only this, mango leaves which you may often discard can actually work as a great herbal medicine. Mango leaves are full of healing & medicinal properties. 
For Recipes and Deals
Direct to your inbox - Join now!